Other MLS Stadiums
Since the first Major League Soccer stadium opened in Columbus in 1999, there's been a flurry of activity. The Home Depot Center opened in Los Angeles in 2003, with Pizza Hut Park opening two years later outside Dallas. The Chicago Fire's new stadium opened in June, 2006. Other stadiums are either under construction or in the planning stages for Harrison, NJ (for the New York City market); Denver; Salt Lake City; Toronto; and Washington, DC, and, of course, the San Francisco Bay Area. The facilities are listed here in chronological order.
Columbus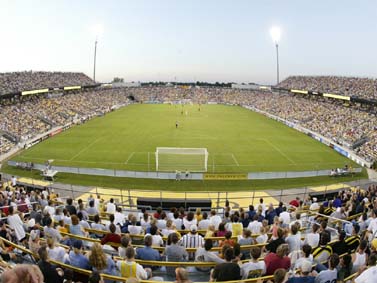 The Columbus Crew Stadium was the first major league stadium built specifically for soccer in the United States. It opened May 15, 1999.
Plans for a soccer specific stadium in Central Ohio had been in the works ever since the Crew's inaugural season. However, voters turned down stadium initiatives in Franklin County and the city of Dublin, before the Crew proposed a stadium built on land leased from the Ohio Expositions Commission.
The entire cost of the stadium ($28.5 million) was privately funded. Capacity is 22,555, with a maximum of 30,000. (Photo courtesy Columbus Crew.)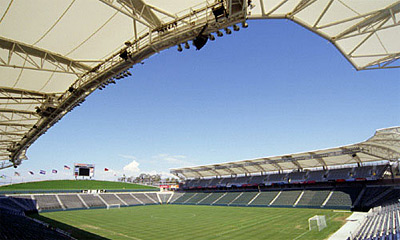 Los Angeles
The second soccer-specific stadium in the U.S. opened in 2003, in Carson, California. The 27,000-seat Home Depot Center stadium is on the campus of California State University, Dominguez Hills.
The Home Depot Center is a 125-acre development, featuring state-of-the-art stadiums and facilities for soccer, tennis, track & field, cycling, volleyball, baseball, softball, basketball and other sports.
In addition to the soccer stadium, there is a 13,000-seat tennis stadium, a 20,000-seat track & field facility and an indoor velodrome. Designated as an "Official U.S. Olympic Training Site," The Home Depot Center is the nation's most complete training facility for Olympic, amateur and professional athletes. It is also home to Athletes' Performance Los Angeles, a nationally recognized training center for elite and professional athletes and is the summer training campsite for the San Diego Chargers (NFL).
Developed and operated by AEG, the $150-million Home Depot Center's commitment to athletics and training also extends to the surrounding communities. Tennis courts, soccer training fields and a three-mile jogging trail with twelve fitness stations around the perimeter of the development are available to local residents as well as other facilities and amenities. Through foundations established by AEG-operated entities such as the Galaxy, the Los Angeles Kings and STAPLES Center, more than $5 million has been pledged to community organizations in the last six years with new donations targeting this local community already being established.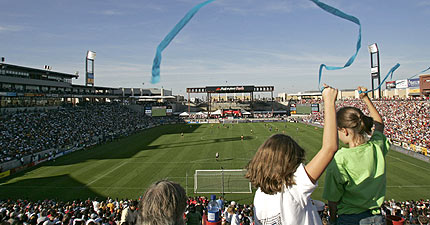 Dallas
A partnership consisting of Hunt Sports Group (HSG), the Frisco Independent School District, the City of Frisco, and Collin County opened Pizza Hut Park (above) in August, 2005. The $65 million project, home of FC Dallas, consists of a 20,000-seat stadium as well as 17 tournament-grade fields for youth and high school soccer. In addition to MLS soccer, the stadium will be used by the Frisco Independent School District for high school football games.
The multi-purpose stadium, also available for concerts, public entertainment, and community events, is on approximately 100 acres just north of the new Frisco Town Square, a mixed-use development currently under construction and the future home of commercial, residential, retail and public buildings, including a new City Hall. Photo courtesy FC Dallas.
Chicago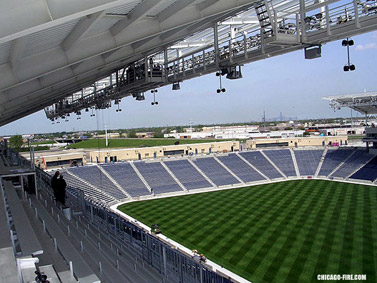 In January, 2004, the Chicago Fire announced plans to develop a 20,000-25,000 seat soccer stadium and concert venue in Bridgeview, a suburb of Chicago. Toyota Park, which opened in June, 2006, was developed on approximately 60 acres at a cost of about $70 million. The site houses the Fire's offices as well as a training center and a training field adjacent to the stadium. The site will also be the center point of a re-development that is expected to include restaurants, theaters and other commercial establishments. A new 110-room AmeriSuites Hotel is planned adjacent to the proposed site to supplement the existing 7,000 hotel rooms in the area. Financing has come both from Bridgeview and AEG, with each putting up $15 million, and $40 million from bonds to be sold by the town. Bridgeview will own the stadium, with the Fire holding a long-term lease. Photo courtesy Chicago-Fire.com.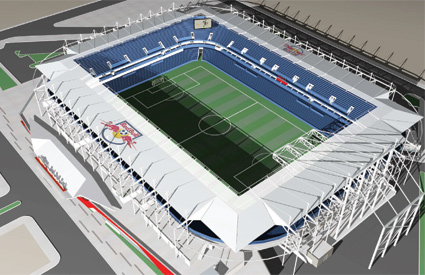 Harrison, New Jersey
On September 19, 2006, workers broke ground on Red Bull Stadium, a $200 million stadium for the New York Red Bulls. Scheduled for completion in late summer or early autumn 2008, the stadium is being constructed via a public-private partnership with AEG and Red Bull providing $100 million, Hudson County contibuting $60 million for roadway infrastructure and parking facilities, and the town of Harrison spending $40 million for land acquisition.
Red Bull Park will be the centerpiece of a $1 billion development dubbed Harrison MetroCenter. The development includes 300,000 square feet of mid- and high-rise office space, 300,000 square feet of retail space and 3,500 units of housing. Rendering courtesy New York Red Bulls.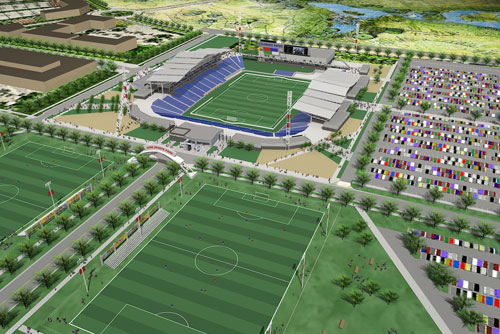 Denver
On July 27, 2005, Kroenke Sports Enterprises (KSE) and officials of Commerce City, Colorado, announced plans to develop 360 acres of land to house a 20,000-seat soccer stadium, youth soccer fields, retail development, and a new Commerce City civic center.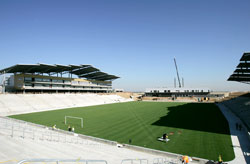 The $130 million project was approved unanimously by the Commerce City City Council, as was a ballot initiative on a $64 million bond issue. Construction began in early 2005 and the Colorado Rapids will begin play in the new facility at the start of the 2007 season. HOK, the same architects who designed Coors Field in Denver and SBC Park in San Francisco, will design the new stadium. Architectural rendering and photo courtesy Colorado Rapids.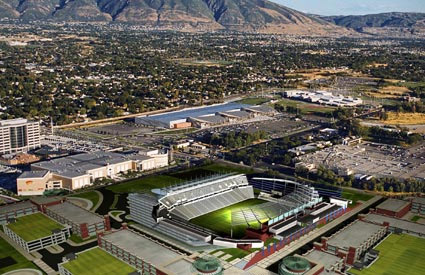 Salt Lake City
On August 12, 2006, Real Salt Lake owner Dave Checketts stuck a golden shovel into the dirt in a special ground-breaking ceremony for Real Salt Lake's new multi-purpose sports and entertainment center in Sandy, Utah. The stadium, which is scheduled to open for the 2008 MLS season, is the result of a public/private partnership which will see $55 million in a combination of hotel taxes, redevelopment funds, and other public sources joined with $100 million from the team to complete the project.
Real Salt Lake will also donate $7.5 million towards a youth soccer complex, build a youth academy in conjunction with Real Madrid, donate $1 million per year towards promoting tourism, contribute 500 tickets per home game to students to promote youth literacy, commit to staying in Salt Lake County for at least 30 years, and give the county 50 cents for every game ticket sold.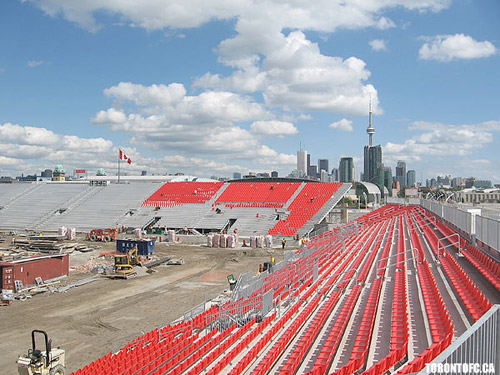 Toronto
The latest addition to MLS is an expansion team, Toronto FC, which will play in a new stadium near that city's downtown starting in 2007. Toronto FC is owned by Maple Leaf Sports and Entertainment, the same group that owns the city's NHL and NBA teams.

Washington, DC
DC United is working with local officials in Washington, DC, in pursuit of a new, 24,000-seat stadium at Poplar Point, overlooking the Anacostia River.
Return to Potential Bay Area Stadium Sites